Colten and Amanda opened Yoga Studio Satya in 2015 and are honored to serve our students and community by creating an inclusive space for yoga to be experienced therapeutically. We are grateful to provide a safe space to Be YOU and explore your yoga journey!
Our offerings have evolved over time and now include a wide range of wellness services, including: Yoga Therapy, Sound Therapy, Trainings and Continuing Education Workshops, Guided Plant Medicine Experiences and more! Contact us for more information.
Yoga Studio Satya has been featured in a few media outlets: Yoga Journal, Gazette and Steamboat News. Highlights below...
Our Mission: To Bring Joy & Health to the Body & Mind, to Inspire & Love Without Judgment & Create a Community Beyond the Walls in Which we Practice.
Yoga Journal Article - Yoga Wall

Yoga Studio Satya was featured in Yoga Journal for Yoga Wall, in 2015, for their unique offering in Colorado Springs.
"The ropes can bring students' bodies back into alignment in a very gentle way, and I believe they act as a physical therapist, chiropractor, and massage therapist in one"
* Read the entire Yoga Journal - Yoga Wall article here *
Steamboat News Article - Grief

Amanda Neufeld was featured in the Steamboat News, in 2019, for her work with the community hosting a Grief Workshop and Restorative Teaching Training.
"We want to create a safe space where there is no judgment, and provide tools that might help you regain peace in your life."
* Read the entire Steamboat Pilot news article here *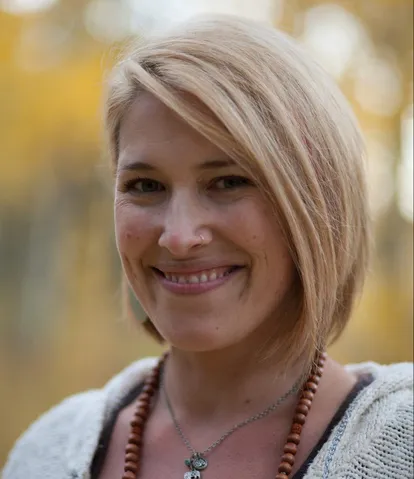 The intent is not to resolve grief in a single session but to provide people with tools to move forward on their own, Neufeld described.
And, while it is held through a "yogic perspective," the workshop won't be like a yoga class. It will be very open to all beliefs and philosophies and comfortable. And people will not be asked to share stories in front of a large group of people, she said.
Using body movement and the breath can help the emotional impacts of grief and can have physical affects on the nervous system as well, she said.
While everyone experiences different emotions, her goal is to provide tools to be able to change some of the emotions that can come out of grief: anxiety into physical grounding and anger and sadness into peace.
When Neufeld first began training in "yoga for grief relief" under Antonio Sausys, she didn't think she had very much grief in her life. But, she found it was there — buried. And then she experienced several very traumatic deaths close to her.
"If I didn't have the tools, I would be a hot mess," she said. Having the tools doesn't mean not experiencing the grief, she said, but better understanding how to handle it and understanding "how resilient we are."

Colorado Springs Gazette Article - Grief
Amanda Neufeld was featured in the Colorado Springs Gazette, in 2019, for her work with the community hosting a Grief Workshop and offering private grief sessions through the lens of yoga.
"The only way out of grief, or to change the experience of grief, is to go through it." "We must acknowledge the reality of our loss, and this is a hard place to start."
* Read the entire Gazette news article here *
"Grief is loss of any kind," said Neufeld, owner of Yoga Studio Satya and an E-RYT 500 — experienced-registered yoga teacher with 500 hours of yoga teacher training. "Most think it has to be loss of a loved one, but it can be loss of an object, job, mobility."
Grief comes in waves, first through the primary loss, such as the death of a parent, and then through secondary, perhaps unforeseen losses that are a direct result of the primary loss. If you lose your mother, you also might lose her companionship and your hopes to create more memories.
This is about the time people often check out and begin to numb themselves through any manner of methods — food, alcohol, drugs — or preoccupy themselves so they don't have to feel anything. But really, this is the moment to step into the emotions and feel them fully, even though it might feel as if you'll be swept under a current of pain and never resurface.
"There's a saying in yoga that the only way out is through," Neufeld said. "The only way out of grief, or to change the experience of grief, is to go through it."