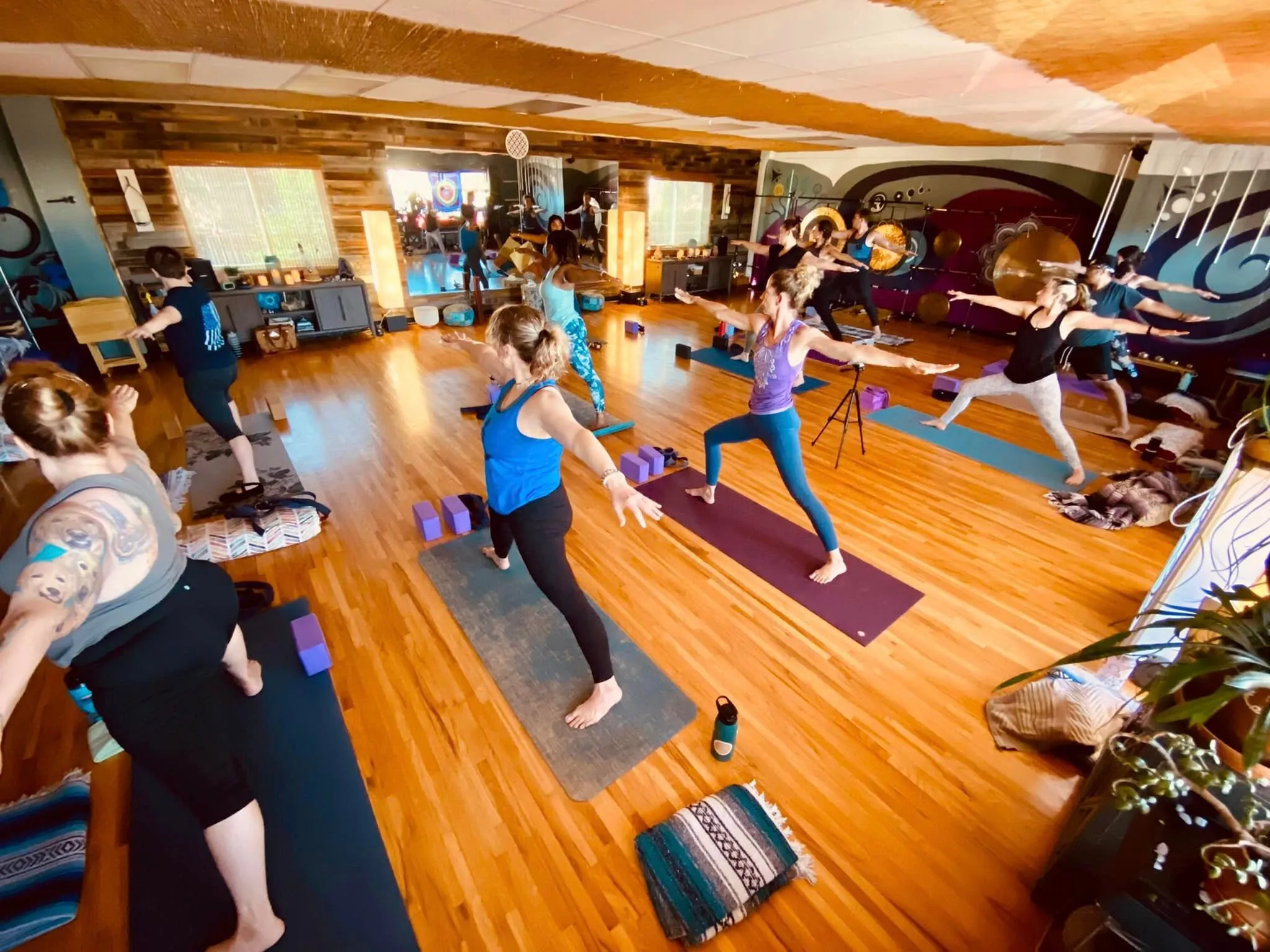 Yoga Studio Satya Can Help You Get Started with Confidence
Confidence starts from within, though sometimes we lack the confidence to start something new. It's a lot easier to get swept up in our own chatter and excuses than to create real action. At Yoga Studio Satya in Colorado Springs, we are sensitive to the anxiety that may surround new students and make every effort to help you become comfortable as you build your confidence and begin your journey into Yoga. Practicing yoga is a great way to develop a healthy foundation for your physical, mental and spiritual well-being. All it takes to embark on your journey is sign up for a class at Yoga Studio Satya.
True confidence comes from having an in-depth understanding of who you are and what you want – and giving yourself the time for that self-discovery and self-awareness helps you to create this understanding for yourself. Building confidence really starts with accepting yourself just as you are – not comparing yourself to others, or comparing yourself to any other version of you. It's accepting where you are, right now, knowing that you are participating in your life and improving every day. When you practice yoga with consistency, you begin to develop a deeper relationship with your true self which includes respect, compassion, and love. This allows you to meet yourself where you are and tend to what you need today, as all things are changing all of the time.

Yoga is also an incredibly inclusive practice. We teach you to modify the yoga poses as needed, at Yoga Studio Satya, to accommodate every individual, including those who are more advanced and flexible, those who are just starting and have limited mobility, those looking to increase strength and stability, those wanting more mindful practices like meditation, and those with health conditions or impairments . We have several types of classes to choose from for you to find the right fit. We also offer private sessions at Yoga Studio Satya, whether you're local in Colorado Springs or would like to connect via Zoom, we are your therapeutic studio for all of your wellness needs.
Yoga for Beginners
Yoga has the power to calm the mind and strengthen the body. Don't be intimidated by yoga terminology, fancy yoga studios and complicated poses. Yoga is for EVERYONE. Much of the yoga practiced in the West today focuses strongly on the physical postures (asana), but it's important to remember that physical postures are just one aspect of yoga. The practice, as a whole, is much more profound and simple - we are working with much more than the body. Through consistent practice, we awaken to the subtler aspects; like different layers of being - physical body, energy body, mind body, wisdom body and bliss body.
Yoga means Union - to bring two opposites together and find the harmony that exists within the balance. Example: Breath - Inhale and Exhale are opposites, yet when you place a mindful presence to it, you can investigate where you're working too hard, where you're not putting in the right effort, when/how you get distracted, when/how you become present, and eventually find a natural rhythm of flow that is sustainable. As we return to our own essential nature or rhythm, we achieve a state of Yoga.
Yoga Studio Satya in Colorado Springs are here to support YOU. We all have to start somewhere, and we appreciate your courage to step onto the mat. By doing so, you have the opportunity to create the inner world that sparkles and shines outwards. This is the magic that can change worlds!
ALL levels and abilities WELCOME to our beautiful and inclusive Colorado Springs yoga studio. To get started at Yoga Studio Satya all you need is:
Comfortable clothes that allow you to move freely
Water to stay hydrated
A positive attitude
An open mind
When you take your first yoga class at Yoga Studio Satya, you may not know all of the poses, and that's ok! Our helpful guides will assist you as needed.
Yoga is a mindful, meditational, self-exploration, and even spiritual experience. As a welcoming practice, you can rest assured that any class you find will be inviting and inclusive, helping you to feel as comfortable as possible.
I AM READY TO GET STARTED! Sign me up today
Yoga for Seniors
As we age, it seems that we are always told about the importance of keeping up with our physical health and brain health. You know the saying "use it or lose it", so how can Yoga help?
Yoga is a great form of low-impact exercise, and is gentle on your joints while also slowly increasing your flexibility to fight back against stiff muscles and pesky arthritis. Through fluid movement and focused breathing, you can also lower your blood pressure, which in turn can lower your risk for cardiovascular and kidney disease. Yoga is a wonderful stress reliever too. You will find that you are so focused on the moves and your breathing that you are only aware of your surroundings as opposed to the thoughts that were once jumping around in your head. Meditation can help calm your mind as well, reducing anxiety and depression, and serving as a coping mechanism when you start to feel overwhelmed. Gaining strength and balance can help prevent falling and reduce injury, and improved sleeping habits will benefit your immune system. Yoga is an incredible and sustainable practice that adapts with you throughout your life.
ohmmmmtips-for-seniors-and-caregivers-trying-out-yoga-and-meditation.docx
Though our classes and guides are amazing, a public class may not fit everyone. We offer private sessions to tailor the experience for what YOU need. You may be recovering from surgery or have experienced trauma and grief...whatever personal afflictions are occurring, Yoga can provide tools for more understanding, patience and acceptance. We can address pain patterns, holistic nutrition, integrated therapy, functional movement or simple daily practices for you to live your best life! If you're interested in scheduling your private session, call (719) 203.4525 or email us at [email protected].